douglassmith
- Sun, 2016/04/10 - 4:25pm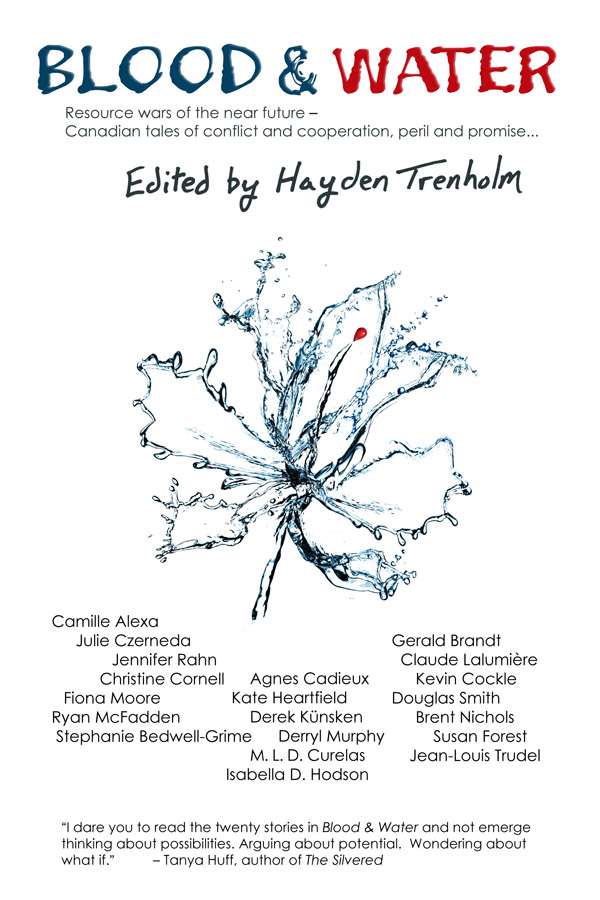 My series highlighting the great books in the awesome Aurora Award ebook bundle continues, today shining the spotlight on the Aurora-winning anthology, Blood & Water.
Most Canadian SF&F authors got their start writing and selling short fiction. When I put this bundle together, I wanted to include at least one anthology to demonstrate the wealth and breadth of Canadian short speculative fiction. Blood & Water fills that bill perfectly. Like other authors in this bundle, I've known Hayden almost since I started writing in the late 90's. He's been an Aurora finalist ever so many times himself and has won the award three times, twice for his own short fiction and once as an editor, for this excellent anthology. Hayden also owns Bundoran Press, so he knows the writing game from all sides: writer, editor, and publisher. On a personal note, Blood and Water includes my Aurora winning novelette, "Spirit Dance," on which my novel The Wolf at the End of the World is based.
Conflicts over resources are as old as human history. Climate change, along with continued population expansion and changes to the world economic order, adds a significant new factor to the equation. We can live without diamonds and gold, we can even find alternatives to oil, but water, food, land, and air are irreplaceable.
Blood & Water presents an impressive collection of writers representing every region of the country whose stories are set from coast to coast to coast. Mostly science fiction, with a sprinkling of the fantastic, Blood & Water presents a bleak future – but also offers hope and even joy. Perhaps that is the 'uniquely Canadian perspective'- every conflict has a resolution, every problem has an answer.
Selected reviews:
"I dare you to read the twenty stories in Blood & Water and not emerge thinking about possibilities. Arguing about potential. Wondering about what if." – Tanya Huff, author of The Silvered
"Hayden Trenholm has gathered an amazing array of stories about conflict over resources. He's attracted some of the best names in the business and found astonishing newcomers. A must-read for lovers of good fiction." – Robert J. Sawyer, Hugo Award-winning author of Triggers
To check out Blood & Water and the other nine award winners and finalists in this great bundle, click here. And remember, this bundle won't be around forever. Only 11 days left to pick up these great books at an incredible bargain.