Submitted by
Douglas Smith
on Thu, 2016/03/31 - 1:15pm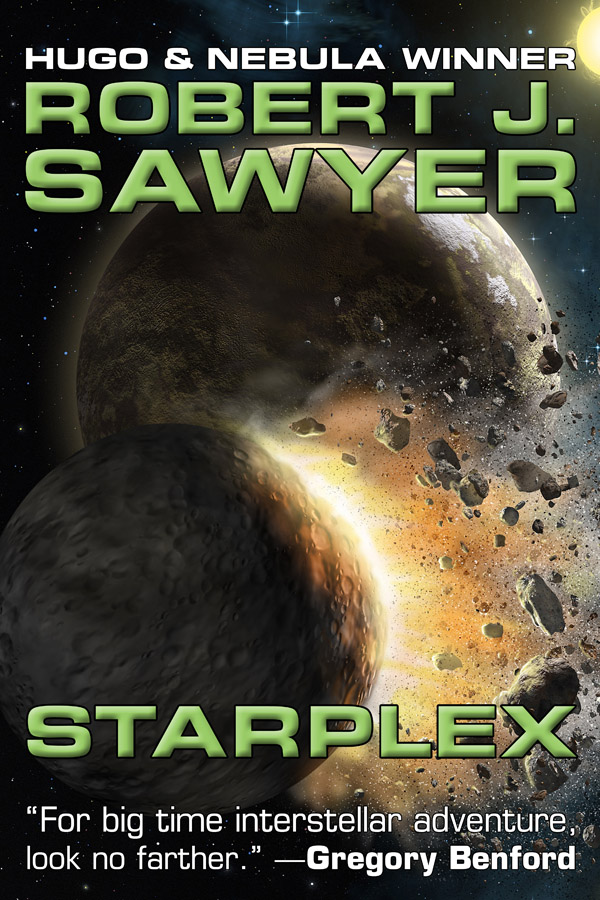 I blogged yesterday about the excellent ebook bundle of Aurora Award winners and finalists that  I'm curating. Over coming days, I'll highlight the individual books in the bundle, to give you a better idea of what you get with this package. Today, I'm picking Starplex by Robert J. Sawyer.
When I was putting this bundle together, I knew that I not only wanted to include a Robert J. Sawyer title, but that I had to. Rob has won the Aurora Award fourteen times, with another thirty final ballot appearances, more than any other Canadian writer. Rob is one of only eight writers in history — and the only Canadian — to win all three of the world's top Science Fiction awards for best novel of the year: Hugo, Nebula, and John W. Campbell Memorial Award. In 2013, Rob was also inducted into the Canadian Science Fiction and Fantasy Association Hall of Fame.
And personally, Rob was a mentor to me and gave me my very first professional sale when he and his wife, the poet Carolyn Clink, edited the Canadian anthology, Tesseracts6. Starplex was my introduction to Rob's writing and remains one of my favourites.
Starplex takes you onboard a giant exploration starship crewed by humans, dolphins, and extraterrestrials as it embarks on a journey covering billions of years of time and millions of light-years of space. It was also a finalist for both the Hugo and Nebula awards. Here are some selected reviews:
"Mind-boggling. A complaint often heard these days is that there's not enough 'sense of wonder' in today's science fiction. Robert J. Sawyer's Starplex ought to lay that complaint to rest for quite a while." – Analog Science Fiction and Fact
"Starplex should gladden the hearts of readers who complain that nobody's writing real science fiction anymore, the kind of story that has faster-than-light spaceships and far-off planets and interstellar combat and all the neat things they gobbled up so greedily when 'Doc' Smith was dealing them out. Here's a story with plenty of slam-bang action but no shortage of material to attract thinking readers, either. Sawyer deftly juggles half a dozen sweeping questions of cosmology (not to mention everyday ethics and morality) while keeping the story moving ahead full speed. His scientific ideas are nicely integrated into the plot, yet they also hint at larger metaphorical levels. Enjoy." – Asimov's Science Fiction
Check out the Aurora Award ebook bundle, including Starplex, here.