Submitted by
Douglas Smith
on Sun, 2011/07/31 - 4:09pm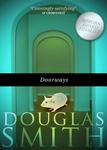 My online bookstore is now live, and I've added a page where I'll be posting special discount offers, including free giveaways, discounts, and 2-for-1 specials. Current offers include:
a coupon for a free ebook version of any short story contained in my second collection, Chimerascope
50% off any ebook in my store.
Most of the coupons have a limit of one use per customer, and they all have a maximum number of buyers, so try them out soon. I'll change the coupons regularly, so check the page often. Any feedback on the store or my site is always welcome.