2009 Aurora Awards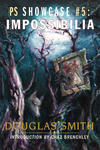 The 2009 Aurora Award nominees have been announced. Each year, the Auroras recognize the best in Canadian speculative fiction, and this year I have three of my works on the final ballot, including my first nomination in the "Long Form" category for my collection Impossibilia, which has been getting great reviews.


My 2009 Nominated Works
You can read reviews and excerpts of all three of my nominated works via the links below. Enjoy!
Best Long Form Work in English:
IMPOSSIBILIA (collection, PS Publishing) – reviews | buy

Reviews & excerpts of the stories in Impossibilia:
Best Short Form Work in English:
How to Vote
Anyone who is a Canadian citizen (not necessarily living in Canada), or a permanent resident may vote. Voting requires you to either be a member of the 2009 WorldCon in Montreal or to pay a small fee ($5). Details on becoming a WorldCon member can be found here. Details on paying a voting fee are on the printed and online ballots (see below). You can vote in any of the following three ways:
Mail-in ballot (PDF)
On-line Ballot
On-line Ballot for Worldcon Members (if you're attending the 2009 WorldCon in Montreal)
All ballots, both mail-in and online, must be submitted before Wednesday, July 15th, 2009. Any consideration for an Aurora vote would be much appreciated!


About the Auroras
This will be the 28th year that the Canadian SF and Fantasy Association awards (the "Auroras") will be presented. On a per-capita basis, the Aurora Awards have the largest voter turnout of any national SF award in the world, exceeding that of the American-dominated Hugos, the Japanese Seiuns, the British Arthur C. Clarke Awards, and the Australian Ditmars. Each year, a different convention or group hosts the awards. In 2009, they will be presented at a ceremony hosted by Anticipation, the 67th Worldcon, to be held in Montreal, August 6th - 10th, 2009. You can read more about the Auroras here.