Submitted by
Douglas Smith
on Mon, 2009/05/25 - 4:59pm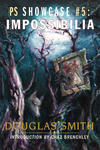 I just came across a couple more great reviews for my Aurora-nominated collection Impossibilia:
"Rarely have I seen such an apt title to any book! Douglas Smith has given us three amazing stories that are so unusual and beautiful that no other name than Impossibilia could possibly describe this collection. Each tale was rapture and ecstasy, magical and mysterious, perfect and implausible. In short, I loved them all from the first word to the last. ... I don't know what else to say without spoiling things for you so I won't say anything else, except READ THIS BOOK!!!"
— Jim Dodge Jr., Mass Movement Magazine, May 2009

"Impossibilia is a treasure to be savoured, like gourmet chocolates and fine wine. It includes three superb stories…each beautifully written and wondrously imagined. It took me several days to get through this book. Not because it is in any way difficult to read--far from it and quite the opposite: the stories in this collection are so wonderful, I wanted to take time to digest and enjoy each and every one."
— Rainbow Dragon Recommends, May 2009
You can read all the reviews for Impossibilia along with excerpts of all the stories via the links below:
IMPOSSIBILIA (collection, PS Publishing) – reviews | buy

Reviews & excerpts of the stories in Impossibilia:
You can learn how to vote for the 2009 Aurora Awards here.