Submitted by
Douglas Smith
on Sun, 2018/07/29 - 11:34am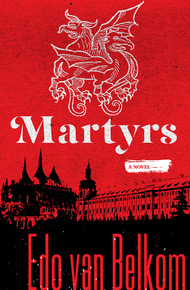 Next up in my spotlight interview series on the current Aurora Award ebook bundle is Edo van Belkom talking about his horror novel, Martyrs, which was a finalist for the Aurora when it came out. Edo is a two-time Aurora winner and has also won the prestigious Bram Stoker Award. Here are his thoughts on Martyrs.
Who is your favourite character in this book and why?
I'd have to say the hero, Karl Desbiens. He's got a bunch of problems to overcome like his crisis of faith and, of course, the evil force trying to wipe him out.
What's your favourite relationship between two characters in this book and why?
The bond between Karl Desbiens and Father Dionne is a good one. Having gone to high school with priests as my teachers, I wanted to make the two more like real people with everyday problems, not just the big one driving the novel forward.
What was the toughest scene to write in this book and why?
The toughest thing about writing this book was just making it believable. Classic horror in which evil forces are unleashed upon the Earth wasn't normally my thing, so I wanted to make the fantastic bits seem as real as I could make them. Contrary to what people might think, it's not easy convincing a reader that a possessed entity can still be alive and menacing with a caved-in skull.
What's your favourite scene in this book and why?
I think it's the ending. I've always found that with classic horror like this the story usually falls apart when the cause or the reason for the evil's existence has to be explained. I think I've walked that tightrope fairly well and set up an ending that is hopefully unexpected, plausible and satisfying.
Is there something in this book that you consider to be particularly Canadian or that Canadians would relate to or recognize in terms of sensibilities, world view, societal beliefs, etc.?
Well, the location and setting is absolutely Canadian. When I was in elementary school we traveled to the Jesuit settlement at Ste-Marie-Among-the-Hurons and were told how brave the priests were when their faith was challenged by the natives. Years later you grow up and start thinking for yourself, and you question why the Jesuits just couldn't co-exist and accept the natives as they were instead of trying to convert them to their own religion and ideology. Maybe in those terms it's more Canadian than just being set in Canada.
What was your biggest surprise in writing this book?
I think it was how the ending seemed to come together so seamlessly. I usually outline everything I write so there are no real surprises, but the last few chapters were satisfying in that I didn't have to shoehorn anything in to make it all work. Everything along the way had contributed just what it was supposed to and it was enjoyable to just sew all the loose ends together.
~~~
Thanks, Edo. I hope everyone following me will check out the Aurora Award bundle up at Storybundle now. But it won't be there long. The bundle ends August 9. Don't miss your chance to pick ten great Canadian speculative fiction books at a bargain price.