Submitted by
Douglas Smith
on Tue, 2018/08/07 - 2:35pm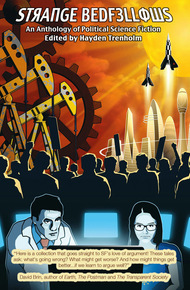 Here is the seventh in my interview series for the current Aurora Award ebook bundle available at Storybundle (but only for two more days!). Today, we talk to Hayden Trenholm, publisher of Bundoran Press and the editor for the anthology Strange Bedfellows.
What is your strongest memory from editing this anthology / assembling this collection?
Although I had previously edited an anthology for Bundoran Press, this was the first one I did after assuming ownership, and it was important to me to do something special. Politics and science fiction essentially define my life so putting them together was a natural.
What I remember best is the flood of really great stories we got from around the world from both well-established and novice writers. When it came to the final selection process, I had enough good stories to fill two anthologies, and it was an agonizing process to slowly weed them down to final selection.
As it was, I went more than 10000 words over my intended length, and to this day, there are several stories that didn't make the final cut the I still think about and wish I could have included.
Is there something in these stories that you consider to be particularly Canadian or that Canadians would relate to or recognize in terms of sensibilities, world view, societal beliefs, etc.?
In the end, there were only two stories written by Canadians in the anthology (with 7 other nationalities represented), but I still think the anthology was quite Canadian in its values. There was wide representation of political views though nothing from the extreme left or right. There was a gender balance between men and women plus stories from writers who identify elsewise as well as diversity of race and religions.
In this sense the anthology strived toward inclusivity—just as Canada itself strives toward inclusivity and opportunity for all. Whether it succeeds is for the readers to judge.
What music would be the ideal listening soundtrack for readers for this book?
Obviously a collection of world music—maybe one of the ones put together for Real World Records by (politically driven) Peter Gabriel.
~~~
Thanks, Hayden. People, if you're a fan of speculative fiction and want to pick up ten award winners and finalists for a bargain price, grab this bundle now. And I mean now. There are only two days left before this deal is gone forever.