Submitted by
Douglas Smith
on Sun, 2018/07/15 - 10:40pm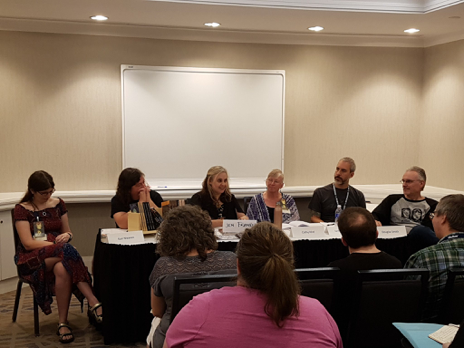 A little short notice but here are a couple of my appearances happening this coming week, one in person and one online.
Wednesday, July 18, 6:00-9:00PM EDT: Pulp Literature issue #19 launch. Along with several other authors, I'll be doing a short reading from my Pulp Literature #12 story, "The Last of a Thing," as well as signing and selling books. Location: Another Bar, 926 Bloor St. W., Toronto. [Correction to first posting: this starts at 6pm, not 7pm.]
Saturday, July 21, 12:30-2:30PM EDT: I'll be giving an online workshop hosted by SFWA president, Cat Rambo, on Rights and Reprints for Short Fiction, based on my writer's guide, Playing the Short Game: How to Market & Sell Short Fiction. Full information and registration link here.
Hope to see you at one of these events!
And I neglected to post about this one, but this weekend I was at the annual Toronto (okay, Richmond Hill) genre convention, Ad Astra, doing panels, a reading, and selling and signing. Thanks to all of you who dropped by and said hello. The photo to the right is from a very fun panel on the different ways of writing time travel stories, called appropriately enough "The Timey-Wimey Stuff."  Panelist were (left to right): Kari Maaren, Cameron S. Currie, Jen Frankel (m), Cathy Hird, James Bambury, and me.