Submitted by
Douglas Smith
on Thu, 2015/10/15 - 1:20pm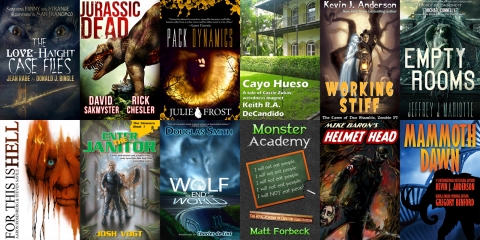 I'm pleased to announce that I'm part of an exciting new ebook bundle of great stories all of which feature some sort of monster. Just in time for you to get your scare fix for Halloween!
Best-selling author, Kevin J. Anderson, has curated the MONSTERS ebook bundle for Storybundle, and he's put together a great lineup. You can read more on Kevin's blog here or go right to the Monster ebook bundle on the Storybundle site to check out this excellent set of titles.
Here's how the bundle works:
Pay whatever you feel the books are worth.
You decide how much of the money goes to the authors, to a charity (the Challenger Center for Space Science Education, in this case), or to administration costs to keep storybundle.com running.
Pay a minimum of $5.00 and get the basic set of six books 
For $15.00 or more, you get all twelve books (a dozen monsters!)
Your ebooks are delivered immediately, in whichever ebook format you prefer, DRM free.
Storybundles are great deals. Buy this for yourself or get some early holiday presents for friends and family, all at an incredibly low price. Great books, great price. What's not to like? This bundle is available for three weeks only, from October 15 until November 6 at midnight, so don't delay.
Special offer to my peeps: I have five FREE coupon codes for this bundle that I will give away. To be eligible, just share this post TODAY on Facebook or Twitter. Include my Facebook name (Douglas Smith (https://www.facebook.com/SmithWriter)) or Twitter handle (@smithwritr), depending on where you post. I'll randomly select five winners and announce them tomorrow.
Thanks for the support!