Submitted by
Douglas Smith
on Tue, 2014/11/18 - 2:51pm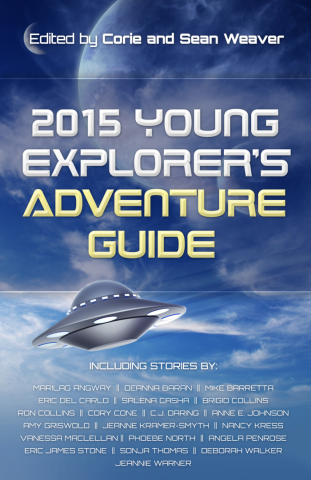 I'm thrilled to announce that I'll have a story in a wonderful and important new SF anthology, The Young Explorer's Adventure Guide, from Dreaming Robot Press.
Aimed at middle grade readers, the anthology's goal is to bring greater diversity to science fiction, a genre that remains dominated by white males, both in terms of writers and characters in SF. This anthology is the first in a planned annual series, and this edition will predominantly feature stories with strong female characters as their protagonists.
The project is being funded by a Kickstarter campaign. They've reached not only their initial goal required to produce the anthology, but also the first three of their stretch goals. The second stretch goal meant my story, "Jigsaw," will be included (woo hoo!). "Jigsaw" first appeared in 2004 in the anthology Odyssey, edited by Julie Czerneda, and features a young female geologist on a spaceship who must solve a planet-sized problem to save her crewmates before time runs out.
From the Kickstarter page:
Sally Ride, first American woman in space and Presidential Medal of Freedom recipient, famously said:

 

"Young girls need to see role models in whatever careers they may choose, just so they can picture themselves doing those jobs someday. You can't be what you can't see."

 

Girls need to read stories where any number of possible roles are modeled for them. Just as importantly, boys need to read stories where girls are active participants in adventures. And children of all colors and backgrounds need to know the future includes them.

 

According to a 2011 study of 6,000 children's books, only 31 percent had central female characters, and even fewer featured main characters of color.

 

A genre that's supposed to inspire us towards a bright future isn't making space for half the population's dreams. Boys go and have adventures, girls are to be defended, or prizes to be won, and the landscape is very, very white.

 

It's time for a bigger universe.
Although the editors have reached the goal and some of their stretch goals, we would all like to see all the stretch goals reached so that the remaining stories will be included and some additional prizes awarded. This anthology is incredibly worthwhile, and I hope that you'll check out the Kickstarter page and consider contributing.