Submitted by
Douglas Smith
on Mon, 2008/01/07 - 8:40pm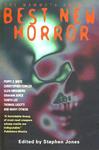 Well, one of my stories, at least. In 2002, my supernatural horror story "By Her Hand, She Draws You Down" was selected by Stephen Jones for the thirteenth edition of his annual The Mammoth Book of Best New Horror. Shortly after, director Anthony Sumner of TinyCore Pictures approached me.
TinyCore does work in a number of areas, including commercials, promotional videos, music videos, and documentaries, with a client list that includes JP Morgan Bank, Jesse Jackson, and Hootie and the Blowfish. But they also do short independent horror films, and Anthony was interested in doing a film based on the story to show at indie film festivals. "By Her Hand, She Draws You Down" was described by the Review Journal of the American Library Association as "delightfully creepy" and "about a young woman who is driven by a mysterious hunger to sketch people and steal their life force as her horrified lover looks on." You can read more reviews here.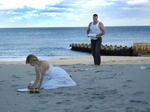 I agreed, and Anthony added the project to his production schedule. Alan Rowe Kelly joined the project as co-Executive Producer. Zoe Chlanda and Jerry Murdock were cast in the lead roles of the artist Cath and her boyfriend Joe, and an award winning SciFi illustrator and Time Warner art director was commissioned to do the sketches that are such a key part of the story. They filmed on location around Ocean Grove and Asbury Park, New Jersey, during which Fangoria magazine came to the set for an interview.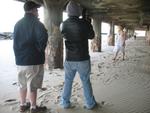 Shooting finished in November, and they are currently editing the project. After that they'll add the visual effects and the sound mix, and then it's off to festivals. Very cool! I'm looking forward to seeing the final result. Hopefully, Anthony will let me post it here on my site.
[UPDATE: storyboard script added in March 25 blog entry.]