Submitted by
Douglas Smith
on Tue, 2009/01/06 - 4:23pm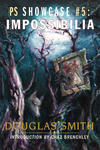 Superb writing. Three perfect stories. Echoes of Ellison and Bradbury. Okay, I'll take it. My first mini-collection, Impossibilia, was released in November and has been getting great reviews. Here's a sample:
"The writing is superb. Douglas Smith is an artisan and his stories beautifully crafted... In my search for the perfect short story, the three in this volume certainly qualify."
"The revolution of themes and words is very fluid throughout this story, making the pace almost rhythmic, drawing you along... The ending is a perfect resolution...
"The characters are intriguing and the story beguiling. I would like to read more about these characters."
"Another great story, but I'm getting used to that. Deft handling of character and setting..."

—Kelly Jensen, SF Crowsnest Book Reviews
"Each story [in Impossibilia] is unique and different, showcasing a different aspect of Douglas Smith's talent. [...] A fun romp that delivered something different [with] stories that are exhilarating..."
"... an adventurous tale that's propelled by character drama ... If this was a Hollywood movie, this would be your blockbuster film, complete with adrenaline-pumping action, expensive special effects, and even a sex scene or two to lure in a mainstream audience."
"Characterization, foreshadowing, and even action--Smith has it down pat with this story.

—Charles Tan, Bibilophile Stalker - Speculative Fiction Reviews, December 2008
"In his elegant and perceptive introduction to this latest showcase collection from PS Publishing, Chaz Brenchley reminds us that 'the proper focus of a story, any sto ry, lies in the characters that inhabit it.' In the three novelettes that comprise Impossibilia, Douglas Smith [lays] bare the psychological and emotional fragility that motivates his characters."
"[Smith delivers] a convincingly rendered portrait of a man struggling to maintain his psychic equilibrium in the face of powerful and destructive emotional forces. ... Right up to the story's surprising conclusion, Smith keeps his readers guessing ... It's an ending that shouldn't work but somehow does, and it's a testament to the writer's skill that their fate seems entirely fitting. "
"Smith once more creates a credible and sympathetic protagonist..."
"There are echoes of Ellison again, and of Ray Bradbury, in this understated and deeply moving tale [...] a deceptively simple narrative of luck, loss, betrayal, and redemption. [The father / daughter interaction] is handled with honesty and a real understanding of the complexity of a relationship between two individuals"

—Mike O'Driscoll, The Fix, December 2008
Read more about Impossibilia here.