Impossibilia: Another great review
Submitted by
Douglas Smith
on Tue, 2009/03/10 - 10:14am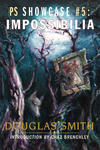 In his Case Notes review column in the latest issue of the fine UK magazine, Black Static, Peter Tennant gives my first collection, Impossibilia, a great review, at the same time showing that he, like me, is a fan of the Boss: "A book that ably demonstrates what Smith is capable of as a writer, added to which, anyone who references Springsteen songs in their titles is going to get the thumbs up from me."
And on the lead story, "A Bouquet of Flowers in a Vase, by Van Gogh": "A clever story and a moving one, with the character of the two leads put over well, and the ghosts that haunt them brought to effective life on the page. Smith is adept at tying together the different plot strands and filling in people's back story in a way that doesn't interrupt the narrative flow."
And on the closing story "Going Down to Lucky Town": "Smith takes a simple idea and finds potential that many other writers would have overlooked in favour of some easier option. At the story's heart is the relationship between father and daughter, and the things they do to make this work, rendered with a singular care and tenderness, the appreciation that sometimes we muck up without meaning to and that sacrifices are required."
You can read more Impossibilia reviews here and if you're interested, you can order your own copy from my store.