2009 Aurora Awards: One, Two,...Three!!!
Submitted by
Douglas Smith
on Tue, 2009/03/17 - 9:59pm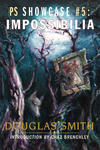 Three?! Really!?! Cool!!! The 2009 Aurora Award nominees have been announced, and this year I have three of my works on the final ballot. Impossibilia, my first collection, is on the ballot under the "Best Long-Form Work in English." Another vote of support for Impossibilia comes in the form of having its lead story, "Bouquet of Flowers in a Vase, by van Gogh" making it onto the ballot as well under "Best Short-Form Work in English," a position it shares with my third nomination, my story "Doorways," which appeared in Postscripts #17.
I've posted all the information on how to vote for the 2009 Auroras as well as links to reviews and excerpts of my stories (including two new long-g-g-g excerpts for "Bouquet..." and "Doorways") on this page. As always, faithful fans, any consideration for my stories when you're voting for the Auroras would be much appreciated. And if you've never voted for the Auroras before, consider making this your first year. Support Canadian speculative fiction. Voting is easy to do and can be done online (soon). A complete ballot with all of the nominees is available here.