Submitted by
Douglas Smith
on Mon, 2010/01/11 - 3:38pm
The nomination period for the 2010 Aurora Awards is now open. Each year, the Auroras recognize the best in Canadian speculative fiction.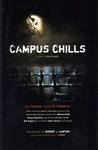 This year my story "Radio Nowhere" is eligible to be nominated under "Best Short Form Work in English." "Radio Nowhere" appeared in the excellent Canadian anthology, Campus Chills (October 2009), edited by Mark Leslie. While the nomination period is open, I've put the full text of the story online here.
Anyone who is a Canadian citizen (not necessarily living in Canada), or a permanent resident may nominate a work for the Auroras. See here for a list of eligible 2009 works. Nominations can be done online or by mail-in ballot. Click the link below for access to the official Aurora Awards nomination site:
Nominating for the 2010 Aurora Awards
All nominations, both mail-in and online, must be submitted by February 8, 2010.
This will be the 29th year that the Canadian SF and Fantasy Association awards (the "Auroras") will be presented. On a per-capita basis, the Aurora Awards have the largest voter turnout of any national SF award in the world, exceeding that of the American-dominated Hugos, the Japanese Seiuns, the British Arthur C. Clarke Awards, and the Australian Ditmars. Each year, a different convention or group hosts the awards. This year, they will be presented at KEYCON 27 in Winnipeg May 22-24, 2010.